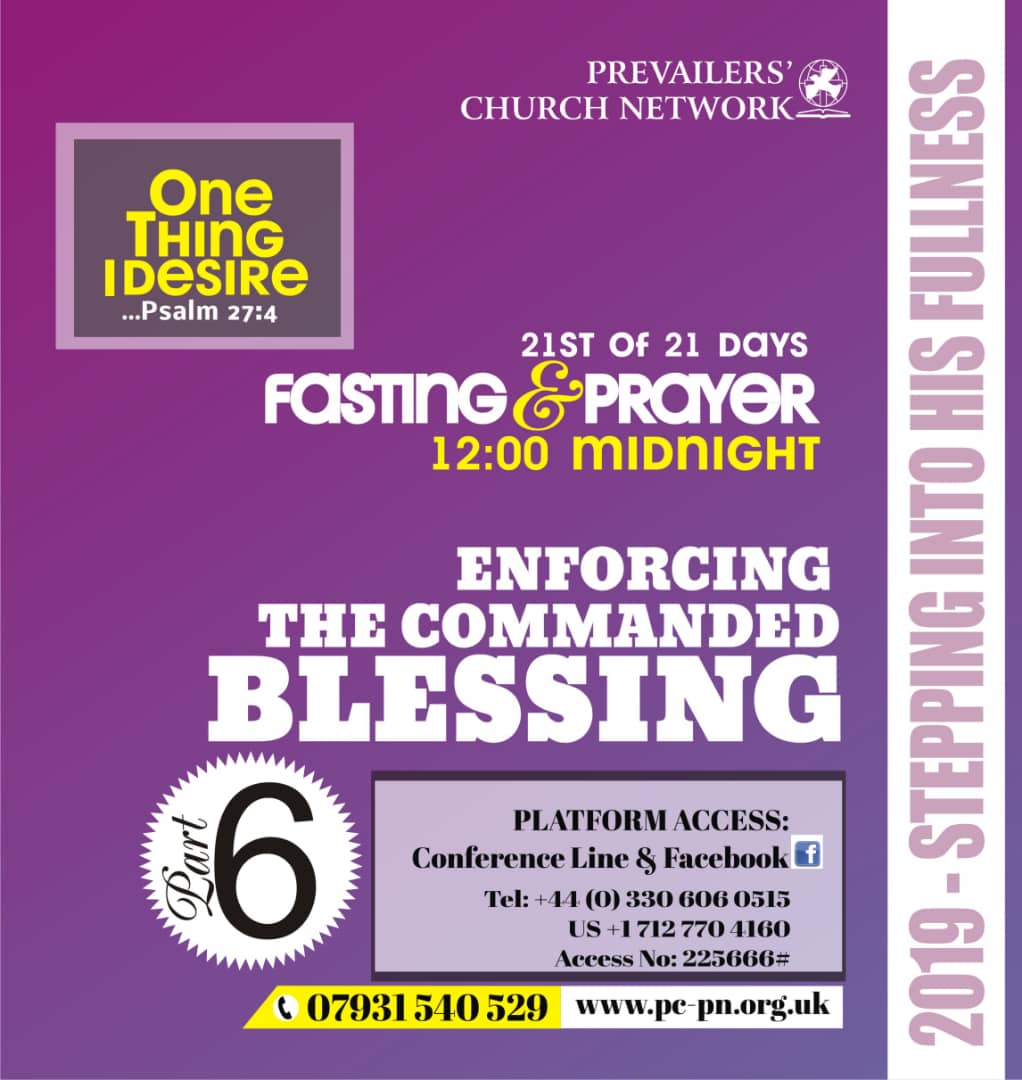 Theme: One Thing Have I Desired Of The Lord. (21st of 21 Days Fasting & Prayer)
Prayer Focus: Enforcing The Commanded Blessing - Winning With Christ Against The Gates (Part 6)
Time: 12:00 am
Livestream Date: 29th January 2019
Precious Brethren, Praise God, By The Divine Grace of God, we have come to the end of the 21 days fast as enabled by the Lord with a divine cry to seek the Lord's face continually and abide in His presence and receiving his divine instruction by grace and a desired commitment to do His will in 2019.
So, our key text for the 21 days fast was Psalm 27:4 "One thing have I asked of the LORD, that will I seek after: that I may dwell in the house of the LORD all the days of my life, to gaze upon the beauty of the LORD and to inquire in his temple".
By the grace of God, this has set both our desire and goal for the year 2019 as "Knowing Christ", and our passion to daily walk with the Lord Jesus Christ through incessant prayer, with readiness to be filled continually with the Holy Spirit (Eph 5:18); with eagerness for revelation knowledge of Christ (Eph 1:17-20) as we submit ourselves to the teaching and preaching of Gods word through the five fold ministry gift, and personal study of the word of God.
We are persuaded by the grace of God, that we give our self continually to the word of God, praise and prayer, and live what we are been taught by faith (Hab 1:4) and full obedience to God's word by the help of the Holy spirit; we will grow more in the love of God, living by the faith of our Lord Jesus Christ, maturing to the full stature of Christ, (Eph 4:11-13) and represent and making Christ known in the nation from every platform of operation given to us by God. So, Help Us Lord.
The Fast may have finished but it's not time to retire and go to business as usual, our thirst for God is continuous and our walk with God is progressive. Our focus is to live heaven on earth as a new humanity that God can call His own, "For we are created by Christ and for Him" (Col 1:16). He is the reason why we live (Phil 1:21), and we are convinced by grace to see Him glorified through us continually in all that we are and do forever.
It is important to note that we are eternally loved by God (Jer 31:3), and in the expression of His love that speaks through sacrifice on the cross (John 10:18), we have our back covered as we live unto Christ in this imperfect world. It's time to rid our self of tradition, culture and religious barriers and fix our gaze on the finished work on the Cross of Calvary. Reminding ourselves continually that the way to step into the fullness of Christ is by grace.
In this season, God's grace is been extended to the nations, He's getting the attention of men through His Church, For we have a kingdom that cannot be shaken, and His perfect love is our assurance that all will be well concerning us, and our nation shall be saved, in the name of Jesus (1 John 4:18). The Lord Shall continue to keep us in perfect peace as our mind stay on Him.